Recommended Reading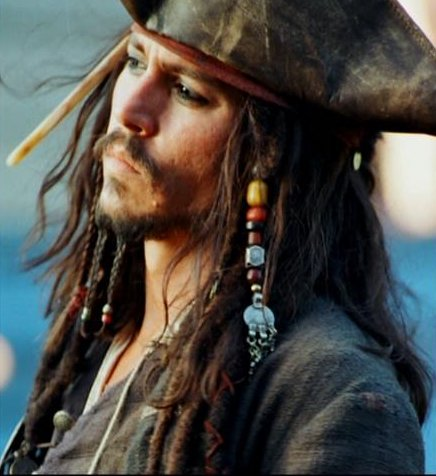 This is a list of stories that I have found of the pairing Jack/OFC. For those of that don't know, O.F.C. stands for "Own Female Character". Just like O.M.C. stands for "Own Male Character". This means that there is an original character playing a prominent role in the story. If you have any suggestions for stories, feel free to email me with them. But be sure to let me know that you're from F.A.S. in the subject line. (FFN) next to a story means that it can be found on www.fanfiction.net. A link to which can be found in the links section on the main page.
Really Good Jack/OFC (or Jack/You) Fictions
"A Pirate's Life Indeed" by: FireValkyrie (Opportune Moment) - - - You go to sleep after one of the most exhausting and wildest parties you've ever been to, and wake up in Jack Sparrow's bed! Naked! How did that happen? What will happen to you now?
"Bonds Between Time" by: RumQueen (FFN) - - - When Francine Ross, a college student from the year 2174, takes up an assignment for her World History Major, she didn't exactly think she would get sent back to the 1700's. Now, in the Golden Age of Piracy, she must learn to cope with and survive the pirate port Tortuga, home of whores, drunks, and alcohol, while trying to find one man in particular - Captain Jack Sparrow. After all, that's what it said on the to-do list she received. She finds him, but does she expect what she gets? Apparently not, as she begins to fall for the dashing pirate captain, despite the many secrets she's hiding from him. She begins to enjoy her life in the new time period; so much, in fact, that she decides she likes it in the 1700's, and wishes she could continue her life on the pirate ship, the Black Pearl, with her newfound friends Anamaria, Gibbs, Cotton, and one special man in particular... But she has to leave that pirate life behind, eventually. With regret, Francine decides to show Jack Sparrow how much she cares...but does he feel the same way?
"Seeing is Believing" by: solitairebbw218 (FFN) - - - A young artist thinks she is losing it when a rogueish pirate's spirit comes back to haunt his likeness in a Famous Wax Museum in Vegas. Working together, can they defeat their mutual enemies, or will Jack steal Jo's heart along with her sanity?
"Harry and the Pirate I" by: geekmama (FFN) - - - Jack gets far more adventure than he bargained for when he sets out with Elizabeth and Will to save the Governor's sister, the fascinating Dowager Duchess of Wyndham, from worse than Death!
"Harry and the Pirate II: Swann's Revenge" by: geekmama (FFN) - - - The continuing affairs of Captain Jack Sparrow and Lady Henrietta Fawnshawe, Dowager Duchess of Wyndham.
"Harry and the Pirate III: Norrington's Choice" by: geekmama (FFN) - - - There are special plans afoot for the Commodore. Revenge? Well, not precisely…
"Harry and the Pirate IV: The Chalice of St. Francis" by: geekmama (FFN)
"Honest and Dishonest Men" by: Delpein (FFN) - - - I'll ravish you and have my filthy way with you, and after that... you'll probably ask me to do it again.—Jack.
"Significance" by: Delphein (FFN) - - Well, I could try taking off me shirt. --Jack.
"Love or Money" by: whereistruth (FFN) - - - Jack's presumptuous nature brings him face-to-face with a down-on-her-luck literature lover with nothing to lose and nothing to leave behind.
"One Wish" by: Dream Descends (FFN) - - - On the eve of her twenty-fourth birthday, Sarah Burke loses consciousness and wakes up three hundred years in the past on the docks of Port Royal. It's not long before a certain pirate lands her in jail, initiating the adventure of a lifetime...
"Unseasoned Ties" by: Mila (Opportune Moment) - - - It is 2004, you are 18 and currently in your first year of college. You live with your best friend in an apartment that both of your parents help pay for. You feel stuck and can't seem to figure out anything that you may want to do for your life. You tend to escape through books and movies, getting lost in worlds that you are not a part of. To protect yourself you tend to be brutally honest and say whatever slams into your head first, not thinking until later. One night you decide to watch a movie all by yourself, and you suddenly get the alternate world you have always dreamed of.
"Savvy?" by: MrsPitt (Opportune Moment) - - - Things take a dramatic twist when you find yourself being friends with Captain Jack Sparrow, who comes to your aid when you are mere seconds from death. The attraction is definitely there, but what happens when the town finds out? And an arranged marriage?! The adventure never ends when you're with Jack Sparrow.
"Daughter of the Sea" by: Mystic Lady Fae (FFN) - - - A mermaid sacrifices her immortality to keep the Turners together. As a mortal woman with special 'gifts', she helps Jack Sparrow find the Fountain of Youth. But will he want immortality when he thinks he's in love?
"Making Waves" by: BusyQuill (Opportune Moment) - - - Craving adventure, you board the Black Pearl and meet Will who makes a good impression on you. You also meet Captain Sparrow who makes an... impression on you. Is Jack what he seems?